Mortgages
Make yourself a home with a mortgage built to match.  
How can we help you today?
Best Rate Special!
Just 5.54% on a five-year mortgage. 

Your first home
What an exciting time!
Find out everything you need to know to make buying your first home a breeze.

Just starting to think about buying a home?
Get pre-approved for your mortgage so you can start house hunting with confidence.

Ready to renew your mortgage?
Get in touch with one of our experts for a quick and easy mortgage renewal.

Refinancing
Need a little extra for a vacation home?  Home reno's?  Now is the time to refinance!

Want to move your mortgage to us?
Make the switch with ease! Our certified specialists will handle the whole process for you.
Find the mortgage option for you
Conventional Mortgage
Ideal if you have 20% or more down payment saved. With this option, you won't need to get mortgage insurance.
---
Available with a fixed or variable interest rate.
Lower Down Payment Mortgage
Ideal if you have less than 20% down payment saved (and as little as 5%). This option does require mortgage insurance.
---
Available with a fixed or variable interest rate.
Construction Mortgage

Ideal if you want to build your dream home.
---
Available as a lower down payment mortgage, with a fixed or variable interest rate.
Flex Mortgage
Ideal if you want to use the equity you're building in your home to borrow for other goals at a lower interest rate.
---
You can hold multiple loan types within your Flex Mortgage.
Fixed Interest Rate
Ideal if you want peace of mind that your mortgage rate and payments won't increase if market interest rates rise.
---
You can combine this rate with our mortgage options.
Variable Interest Rate
Ideal if you want to take advantage of shifts in market interest rates to reduce your mortgage costs.
---
You can combine this rate with our mortgage options.
We're as excited as you are!
It's the beginning of a beautiful partnership.

Rapid approval
---
Forget waiting around for your mortgage approval. We're based locally and do everything in-house to get you a decision fast.

---
We don't use pre-defined lending criteria. Your application is personally reviewed by a specialist, who looks at your full financial picture.

---
You've got more going on than just getting a mortgage, which is why we're happy to help you by phone, video chat, email or after hours.

---
Buying a home is a big step and we take that seriously. Our specialists are fully certified so they can be the partner you need in your home purchase.

---
House-hunting can feel overwhelming, but you don't have to go it alone. Our team will offer guidance before, during and after the mortgage process.

---
You can make an annual pre-payment of up to 20% without penalty anytime throughout the year to get mortgage free faster.
2
Get pre-approved
---
We'll review your application and get back to you fast. If pre-approved, your rate will be guaranteed for 30 days! 
3
Start your house hunt
---
You can start searching for your home with confidence, knowing your mortgage budget and rate in advance.
4
Finalize your mortgage
---
Once you've found your home, we'll finalize approval and get your mortgage set up. Congrats, homeowner!
Meet our Member Experience Team
Jenna grew up on a farm near Midale and moved to Weyburn in 2005. She has lived in Weyburn ever since and has two daughters Ellie & Sadie with her husband Logan. She is a hairstylist by trade but switched career paths in 2014 when she began working at WCU as a Cash Admin Rep. She has since held a few other positions: Member Service Representative, Contact Centre Rep and currently Member Relationship Specialist. Customer service is her top priority, and she loves helping members achieve their financial goals!
Jenna enjoys spending time with her family and low-key weekends at home are her favorite. She also enjoys baking, being outdoors and her newborn photography hobby.  
Naresh comes with an international experience of working in banking industry of India. Due to his passion towards this industry, he went to Saskatchewan Polytechnic in Moose Jaw to gain essential education to learn about financial sector of Canada. After earning his Financial Services PG Certificate, he joined Weyburn Credit Union in June 2022. Being down-to-earth, he empathizes easily with others. Come and see him to meet your financial needs!
Simone was born and raised in Perth of Western Australia. Although she misses the warm sunny weather, she loves the life she has created with her husband, Brandon, and their two daughters, Aria and Kali. She has her diploma and is a fully certified Early Childcare Educator and worked at two of the local daycares in Weyburn when she first moved here in 2009! It was October of 2013 when Simone decided on a completely different career path which is when she joined the WCU as a Member Service Representative. Since then she has held a few other positions: Cash Cage Administrative, Contact Centre Rep and currently Member Relationship Specialist. One thing that hasn't changed is her passion she shares for the WCU members and has continued to grow these relationships in each position she has had.
Simone loves to spend time with her family any chance she can. When she isn't busy running her two daughters to dance, swimming, and synchro. She likes to take them to the local swimming pool, playgrounds, their family cabin or out camping with friends. She also tries to enjoy the little things and makes the most out of life as best she can.

We'll need to collect some information for your application. Having it ready will help speed up your approval. Here's what you need to have on hand:
Personal information – We'll need your name, date of birth, legal and/or mailing address, phone number, email, Social Insurance Number, government-issued photo ID, marital status, number of children, occupation, and name of your employer.
Proof of your income in two different forms – You can provide us with a copy of two current paystubs, a letter of employment, your most recent T4 slip, your most recent Tax Return or Notice of Assessment.
Detailed list of your assets and liabilities – For example, for a vehicle that you own, we would need the year, make & model, as well as it's approximate current value. For savings or investments, we need to know what type of investments you have, where they're held, and what their current value is. For liabilities, we'll need a list of things you owe money on such as credit cards, loans, or support payments.
Proof of where your down payment is coming from – Some common sources include personal savings, an RRSP withdrawal, a non-repayable gift from an immediate family member, proceeds from the sale of other property, and funds borrowed against proven assets.
Note: We'll also need to pull a credit report. At least one of the applicants must have a credit score greater than 600 to qualify.
Get your personalized rate quote
Let us give you a rate quote tailored to you and your home-buying plans.
Boost your mortgage know-how

Check out our Financial Literacy Hub for helpful tips, articles and resources.
---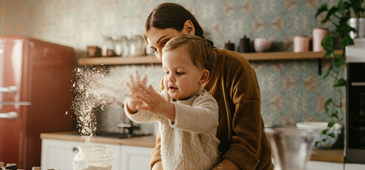 Renting vs. Owning Your Home
When it comes to housing, renters tend to be as undecided as Hamlet: to buy or not to buy, that is the question.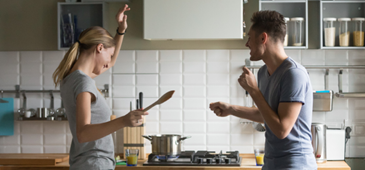 Flex your financial fitness muscle with this all-in-one homebuyer's guide.
From tips to remember when buying a home to advice on applying for a mortgage, this handy booklet will take you through all the steps required to purchase a home.
We're ultra-local & here to help!